WEDDING MUSIC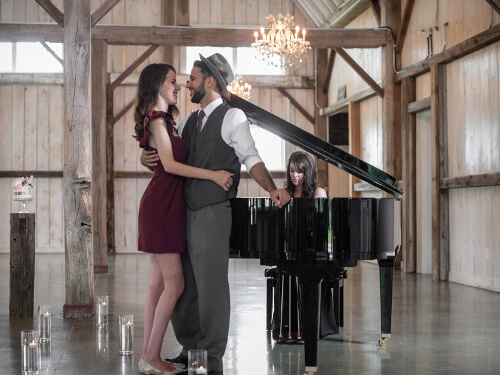 Beautiful popular contemporary wedding music for the modern bride & groom.
CEREMONY MUSIC
COCKTAIL MUSIC
DINNER MUSIC
FIRST DANCES
---

CEREMONY
1-2 hours
$850
prelude music to set the mood & ambiance for your guests · beautiful live versions of your ceremony songs · a microphone for your officiant & vows · post-ceremony music as your guests mingle
1 setup
---
CEREMONY & COCKTAILS
2-3 hours
$850-$1250
prelude music · ceremony music · a microphone for your officiant & vows · cocktail music for a chic and sophisticated atmosphere for your guests while they enjoy cocktails and hors d'oeuvres
1-2 setups
---
CEREMONY, COCKTAILS, DINNER & FIRST DANCES
4-6 hours
$1150-$1950
the complete live music experience · ceremony & cocktail music · grand entrance music · elegant live dinner music · microphone for speeches · memorable first dances set to captivating live music
1-3 setups
---
CUSTOM PACKAGES
$850 for 1-2 hours
$150 per extra hour
$250 per extra setup
1 setup of my piano and sound is included.
Extra setups are required if ceremony, cocktails, dinner are in different rooms or spaces.
---

Ceremony and first dance songs are very personal choices. You're welcome to request any songs that are special to you, they don't have to be chosen from my repertoire. My song lists are offered as a helpful guide of popular requests and can also be used to select background music for prelude, cocktails & dinner.
---

A Thousand Years

by Christina Perri, Performed by Kimberley Dunn

4:40

Perfect

by Ed Sheeran, Performed by Kimberley Dunn

1:40

Better Place

by Rachel Platten, Performed by Kimberley Dunn

2:37

How Long Will I Love You

by Ellie Goulding, Performed by Kimberley Dunn

2:35

Sky Full Of Stars

by Coldplay, Performed by Kimberley Dunn

3:22

I'm With You

by Vance Joy, Performed by Kimberley Dunn

1:43

Pachelbel's Canon + Perfect (Piano Medley)

by Pachelbel & Ed Sheeran, Performed by Kimberley Dunn

1:32

Ave Maria + A Thousand Years (Piano Medley)

by Bach/Gounod & Christina Perri, Performed by Kimberley Dunn

1:28

Pachelbel's Canon + Can't Help Falling in Love (Piano Medley)

by Pachelbel & Elvis Presley, Performed by Kimberley Dunn

1:48
---

WEDDING REVIEWS & TESTIMONIALS
Kimberley is outstanding. She brought an element of warmth to our ceremony that would have been impossible to achieve without her. Her voice is absolutely gorgeous, and she is a dream to work with – professional, communicative and receptive. We are forever indebted to Kim for the role she played in our special day.
– Tabitha Bernard, bride
---
Just incredible!!! Kimberley is such a pleasure to work with in every way. She is professional, classy, beautiful and oh so talented. She prepares and cares about your event as if it was her own. She is a must hire that will improve any gathering immensely. The voice of an angel.
– Marc Feagan, groom
---
I just want to say: wow. Kim was an absolute delight to work with and she blew us and our guests away. Kim's music was the soundtrack to the most magical day of our lives, and she absolutely over-delivered. I cannot say enough nice things about this wonderful human and her incredible talent.
– Dominic Aquilina, groom
---
If you are reading this review and are considering hiring Kimberley for your event, I think you would be hard pressed to find anyone better in the region! We had an absolute fantastic experience with Kimberley. She is professional, beyond accommodating, and wonderful to work with. She truly helped the vision of our wedding day come to life. Kimberley's vocals are WOW worthy. She blew us and our guests away with her incredible talent!
– Leanne Scott, bride
---
Wow! We were so privileged Kimberley performed on our wedding day. Kimberley's warmth, graciousness, and professionalism was complimented by her wonderful musical talent. Our guests are still commenting about the wonderful music-filled wedding day! Thank you so much Kimberley for this magical experience and for making our wedding day so special!
– Heather McClelland, bride
---
We were so fortunate to have Kimberley for our daughter's wedding. A beautiful voice and talented pianist, Kimberley was a joy to work with. She has an extensive repertoire, and was more than happy to learn and prepare a new musical piece. Her professionalism and performance style is very impressive. Her music brought all of the other elements of the wedding together to make it such a beautiful ceremony.
– Michelle Decock, mother-of-the bride
---
To say Kimberley is a master of her craft is an understatement. She is the epitome of voice and piano perfection, a consummate professional and warmhearted person. I cannot picture our wedding day without her being a part of it.
– Anjelica Hodgson, bride
---
Kim is truly very talented at what she does and we got many compliments on her beautiful voice and piano playing. I have seen her play on two occasions now and she is very good at timing the start and ending of songs to match the flow of the event. She was also very professional in all of our correspondence. A gem in Ottawa!
– Julia Cieslukowska, bride
---
There are no words to describe how completely incredible Kimberley is. Everyone was completely blown away. Not only is she amazing at what she does, but she is a genuinely kind and caring person. She is the kind of person you just want to be friends with. Kimberley, you made our wedding so special and we could not be happier that we found you.
– Alex Brodkin, bride
---
Kimberley provided a fantastic atmosphere. She was seamless and professional, always willing to add to our experience. I loved working with her.
– Meghan MacKinnon, bride
---
We wouldn't want anyone else playing at out wedding. Her music made our day all the more magical. I can't even begin to describe her incredible talent. As a cherry on top, she took the liberty to take stunning photos of our decor as our photographer was running late. If you are looking for a vendor that is both talented and kindhearted, choose Kimberley!!
– Zuzana Novak, bride
---
Kimberley was nothing short of amazing! She was so helpful, extremely prompt when returning emails, and we really appreciated how easy going she was. We cannot say enough good things about Kimberley's talent, professionalism, and personality. Her voice was so beautiful and angelic, and guests were blown away with her talent. We are so grateful to have had Kimberley be part of our special day.
– Virginia Johnson, bride
---
This past weekend I had the opportunity to work with Kimberley for my client's wedding. Not only was she responsive and helpful during the planning process but she was very flexible and accommodating on the wedding day. Her talents are unquestionable and she did an incredible job setting the tone for my client's ceremony. I would love to work with her again.
– Cait O'Malley, Owner, Bourbon & Bloom
---
Kimberley gave our daughter's wedding a very, very special atmosphere. She so naturally spreads her kindness, happiness and enjoyment for music. She is very professional and accommodating, all along making everyone feel so special. It was a true pleasure to meet Kimberley and have her be part of the wedding.
– The Stilling Family, mother & father of the bride
---
We had the pleasure of having Kimberley perform at our wedding. She was amazing and our guests are still talking about it. If you are looking for a beautiful, elegant and talented pianist to make your event memorable, Kimberley is the one for you.
– Layla Askari, bride
---
Kim is amazing! She is very professional, and her voice is absolutely gorgeous. During the planning process she was incredibly patient and easy to work with, from her fast email response time to her great song suggestions. She really helped make the ceremony everything we dreamed of.
– Cassandra Montague, bride
---
Having Kimberley perform at our daughter's wedding was without doubt a great decision and outstanding value. Kimberley has an incredible range of music to choose from so we were able to select music that was important to us for certain moments while letting Kimberley set the mood at other times. Kimberley is a true professional, an accomplished musician with the voice of an angel!
– Peter Croft, father of the bride
---
Kimberley is an awesome talent, a true professional, delightful to work with and helped make our wedding day, spectacular! We wrote a song for my beautiful wife and Kimberley performed it live for our first dance. There wasn't a dry eye in the house. The song was professionally produced and performed just like a fairytale. It truly is overwhelming to have the song as a continuing memory of our day. For those of you who read this, many may already know all about Kimberley's wonderful talent. For those that don't, you must get to know Kimberley and experience her work. Your life will change!
– Greg Vail, groom
---
Interested in booking? Want to find out more?
I would love to hear about your wedding and what you envision for your music. Please contact me and we can get started!